In the whirlwind of the entertainment industry, where schedules are tight and commitments are abundant, even the most celebrated celebrities occasionally yearn for a moment of respite. Kiara Advani, the talented and gorgeous Bollywood actress, recently expressed her desire to embark on a relaxing vacation, sharing an unseen picture with her rumored beau, Sidharth Malhotra, leaving fans eager for more details.
Known for her captivating performances and radiant charm, Kiara Advani has become a beloved figure in the Indian film fraternity. Her talent has earned her critical acclaim and a massive fan following. While Kiara continues to impress audiences with her versatile roles, she understands the importance of taking a break to rejuvenate and unwind.
Taking to her social media accounts, Kiara shared an unseen picture with Sidharth Malhotra, igniting curiosity and excitement among her fans. The photo featured the duo standing against a backdrop of an incredible evening with the breath-taking pathway taking the two somewhere. Their smiles reflected a sense of joy and tranquillity, hinting at the blissful moments they shared during their vacation.
Kiara's caption evoked a longing for leisure, as she expressed her yearning to return to the serenity of a vacation. She shared, "Take me back… To sun-kissed beaches, tranquil waters, and the feeling of freedom. Missing those carefree days with my favourite travel companion, Sidharth Malhotra." The heartfelt words resonated with her followers, who empathized with the desire for a temporary escape from the demands of daily life. Check her story as under: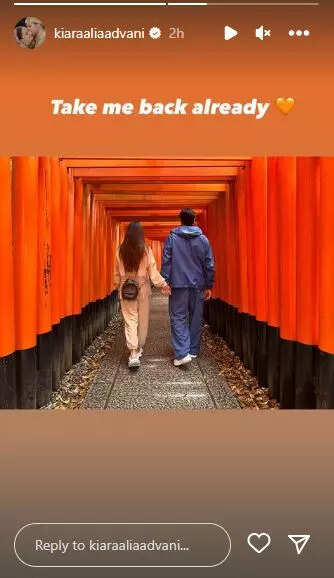 The picture also fuelled speculation about the nature of Kiara and Sidharth's relationship. Although the couple has remained tight-lipped about their personal lives, their on-screen chemistry and occasional glimpses of togetherness have sparked rumours of a romantic bond. Fans were quick to shower the comments section with adoration and well-wishes, fuelling further speculation and curiosity about their relationship status.
Kiara's dedication to her craft and her relentless work ethic are well-known, but her recent post shed light on the importance of balance and self-care in the pursuit of success. It served as a reminder that even the brightest stars need moments of tranquillity and a chance to recharge their spirits.
As fans eagerly await further updates from Kiara about her vacation plans, it is clear that she has touched a chord with her audience. Her willingness to share a glimpse of her personal life allows fans to connect with her on a deeper level and appreciate her as a relatable individual, beyond her glamorous on-screen persona.
In a world that often demands perfection, Kiara Advani's vulnerability and desire for a getaway resonate with many. Her unseen picture with Sidharth Malhotra acts as a catalyst for dreams of idyllic vacations and carefree moments, reminding us all of the importance of self-care and the beauty of sharing joyful experiences with loved ones.