On Wednesday, Alia Bhatt was the big target of online world trolls after she made two revelations that sparked controversy. First, she said that her husband, Ranbir Kapoor, often asks her to remove her lipstick. This led to some people labeling Kapoor as a "red flag," a term used to describe someone who exhibits controlling or manipulative behavior.
Also, Alia expressed her admiration for Elvish Yadav, the winner of the reality show Bigg Boss OTT 2. This surprised many people, as Yadav is a controversial figure who has been criticized for his political views. Bhatt's fandom for Yadav and his "Systumm" (a term he coined to criticize the political landscape in India) left many netizens bewildered. They couldn't understand why such a talented actress would fangirl over someone like Yadav.
As a result of these revelations, Bhatt was subjected to a wave of trolling. Some people called her "immature" and "unprofessional." Others said that she was "setting a bad example" for her fans. Alia Bhatt has not responded to the trolling. However, her fans have come to her defense, saying that she is entitled to her own opinions and that she should not be judged for them.
A fan asked Alia Bhatt, "Elvish Yadav ke bare mein kuchh ho jaye" (Share something about Elvish Yadav). Alia responded with a shoutout, "Systummm (two red heart emojis)."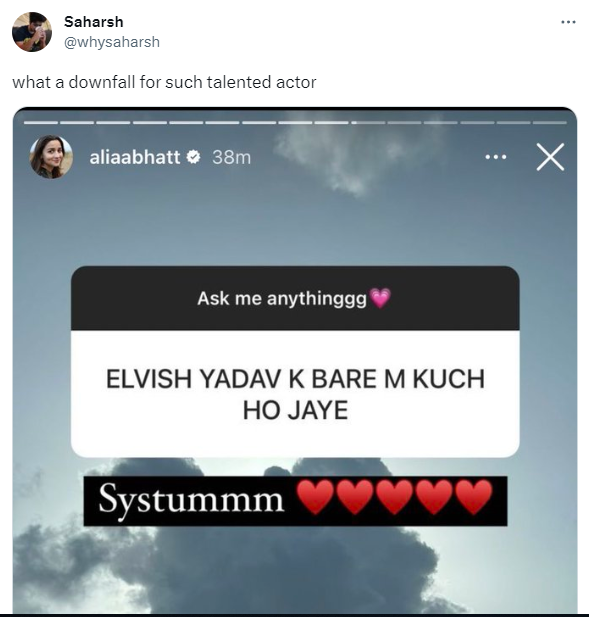 All in all, Alia's response was met with mixed reactions. Some people praised her for her support of Elvish, while others criticized her for using a term that is associated with political dissent. However, it is important to note that Alia has not explicitly stated her political views. Her response to the fan's query could be interpreted as a simple expression of her admiration for Elvish, or it could be seen as a more political statement. So, in the end, it is up to each individual to decide how to interpret Alia's response. However, it is clear that her words have sparked a conversation about the role of celebrities in politics.